PUBLIC AUCTION
Saturday, July 29, 2017
10:00 A.M.
The Moffat Center, Linn, MO
Directions:  From Linn, take Hwy. 50 west 1 ½ mi. to Co. Rd. 604, turn left & go 1 mile to building on right, or from Jeff City, take Hwy. 50 east approx. 18 mi. & turn right on Co. Rd. 604.
*TRACTORS & EQUIPMENT*
John Deere 2150 Diesel 3pt 85 p shuttle 2,500 hrs sells w/175 JD loader w/homemade grapple on bucket; 1948 Allis Chalmers Mod G Implements for G sell separate; Field cultivator; bottom plow; Sickle mower 5 ft; Row planter; Rotary hoe; 3pt Ditch & bank mower w/5ft flail mower; Homemade vegetable picker 4 wheel 12V 3pt 800 lb weight; 3 pt sub soiler 1 tooth; 3 pt Hyd wood splitter; Fence post; Corner post.
*TRUCK*
1997 Dodge 2500 3/4 310,000 miles Cummins diesel turbo 2wd Automatic Apr 1000 miles on rebuilt transmission long bed goose neck ball.
*GOLF CART, LAWN & GARDEN*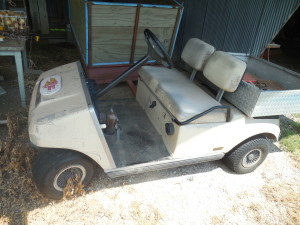 Club car golf cart gas; 1996 Grasshopper 725 mower 6ft cut 2,800 hrs Hydro replaced 3 yrs; Homemade walnut huller;  2 Wheel lawn trailer; 400 lb scales; Stihl 180 chain saw; Troybilt tiller; Lawn & garden tools;  Electric cement mixer; Misc lumber & plywood; Echo line trimmer; Step ladders; Ext ladders.
*TOOLS & MISC*
Power Kraft AC welder; C/H 1500 PSI gas power washer; Cutting torch set; Battery charger; B&D metal chop saw; Milwaukee metal chop saw;  Milwaukee drill; Makita 3″ planer; Belt sander; Router; Gantry; Fleetwood bench top drill press; 3/4 Sockets; Milwaukee hole saws; Craftsman 10″ band saw; Craftsman 19.2 V drill; Craftsman Radial arm saw; Lg 220 Air compressor w/200 gal tank; Hyd jacks; Air tanks; Shop tables; Welding table; Hyd cylinder.
*ANTIQUES, COLLECTIBLES & HOUSEHOLD*
1906 Minnesota treadle sewing machine; 1880′s Treadle sewing machine; Sewing & quilting books; 1950′s Stepstool; Washtubs; Canning jars; Pressure cooker; Dishes, pots & pans; Solid Walnut dining room set made by Bissman Furniture Springfield MO; Table, 6 chairs & buffet; 5 pc Walnut Bissman bedroom set, dresser, chest & 2 night stands; Quilts; Glider rocker; Wood totes; Wood boxes.
Owner: Francis Voegeli
Note: Francis has sold his home in Jefferson City and is moving to a retirement apartment. Most everything is in good working  condition. 
*GUNS & AMMO*
Remington mod 12-22 pump Octagon barrel; Remington Mod 12-22 pump peep site; Remington Mod 12-22 pump gallery special; Springfield 84-22 Bolt w/clip; Savage 410-22 over & under; Ammo incl: 16 ga, 20 ga,  .38, .22, .17, 380 auto, 22 mag, 28 ga, 9mm, 7.6 mm, 45-70 & others.
*LAWN & GARDEN*
Craftsman DLT 3000 riding mower; Bolens 1050 garden tractor; Toro 421 Snow blower; Yard Pro 5hp Rear tire tiller; White 933 R walk behind self prop. push mower; Remington pole saw; Stihl line trimmer; Homelite chainsaw; Makita drills; Post drill; Honeywell 2000 generator; Yard machines log splitter 8 ton gas
*MACHINE SHOP EQUIPMENT*
Super max milling machine 3 phase sells w/220 phase converter box, Excellent cond.: Enco Metal lathe 220 Excellent cond.; Buffalo metal band saw; Smith 110 air comp.; Onan electric plant generator; Kennedy tool box; Machinist vice;  Lg amt Machinist tools: Bits, Dies, Taps, Calipers, Mic's etc. Lincoln 220 welder; Files; Drill bits; Gauges; Hones; Ryobi drill saw C-clamps; Vice grips; Champion generator 4000.
*HOUSEHOLD, ANTIQUES & COLLECTIBLES*
Leather sofa & love; 5 pc bedroom set; Oak coffee & end table; Maple table & 6 chairs; Oak chest & desk; Maple dresser; Ridgeway grandfather clock; Ant. secretary desk; 8 pc Cherry dining room set, Table 6 chairs, Lg breakfront, curved glass sides like new; Loveseat; Sm chest freezer; Lamps; Chest of drawers; 3 sets of metal lockers 1950′s; Wash tub on stand; Wringer washer Maytag; 1930′s Cream gas stove; 2-2 door wood cabinets painted; Wood boxes; Falstaff beer box wood; C/I skillet; C/I Fish fryer; 6 gal Bale handle crock; Green opalescent water set; Stainless butchering pans; Porcelain electric scales; Old buttons; Marbles; Old lanterns; Granite ware; Regulator clock; Old pump jack; 1950′s Color wheel; Books; Shutters; Wood ladders; Ammo boxes
Owner: Hartman Estate & Others
Note: Mr. Hartman was a machinist by trade, when he retired he bought the Milling Machine & Lathe new for his hobby.  Most of his machinery & tools are  in good condition. 
Make plans to attend. Thanks — Rick
Terms:  Cash or good check with proper identification.  All sales are final.   Everything sells as is, where is.  Proper identification is necessary to obtain a buyer's number.  Announcements day of sale supersede all printed material.  Lunch on grounds.
RICHARD MOFFAT AUCTION SERVICE
708 E. McCarty St., Jefferson City, MO 65101 – Business Office
Auctioneers:
Richard Moffat
573-761-4293
Jefferson City, MO
The Moffat Center
Linn, MO

Matt Michelson
Jefferson City, MO