PUBLIC AUCTION
Saturday, August 19, 2017
10:00 A.M.
205 South Vine, Chamois, MO
Directions:  On the corner of Hwy K & South Vine
*REAL ESTATE* sells at 12:00 P.M.
For Viewing: Please contact Cheryl Kuschel at 573-294-7169 or 573-645-7957 or Richard Moffat at 573-690-2823.
2 Story frame house on 2 city lots, 5 bedroom, 8 total rooms, 1 bath, large kitchen, gas heat & central air on main, ornate stair case, replacement windows, vinyl siding, and 2 out buildings.
Note: This home has had some remodeling/updating done. Over all for its age it is in fairly good condition.
Terms for Real Estate:   $2,000 of the selling price must be paid down the day of sale upon signing the real estate contract, to be escrowed with Midwest Title Co., with the balance due at closing in 45 days.   All bidders must be pre-approved by their lender because the sale of the home is not contingent upon financing. Title Insurance is  to be split 50/50 between seller and buyer, with buyer to pay mortgagee policy if loan is obtained. Announcements day of auction takes precedence over all printed matter.  Property taxes for 2017 will be prorated.  Property sells as-is with no reserve.
* ANTIQUES & COLLECTIBLES *
Oak dresser w/hat box; Princess type dresser w/bevel mirror; 2 Oak library tables; Redden splint bottom chair & rocker; Iron bed; 6 Pink depression juice glasses; Indiana glass candle holder; Cup & saucer sets; Pattern & press glass; Pattern glass cake stand; Green depression ballerina cake plate; Pattern glass compote; Pyrex colored nest of bowls; 3 Sets of china; Ice box dishes; C/I skillets; Sifters; Enamel ware; Match box holder; 1950′s step stool; Quilts; Comforters; Finger oil lamps; Costume jewelry; 2 Blue powder lamps; Tea towels; Linens; Fancy work; Quilt blocks; Embroidery; Sewing; Old dolls; Stand tables; Wood totes; Wash tubs; Old wagon; Wood soda crates.
*GUNS* sell at 12:30 P.M.
Ithica 12 ga pump mod 37; Stevens 12 ga pump; New Haven 410 bolt; Glenfield 22 bolt.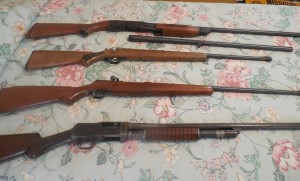 *HOUSEHOLD*
Hot Point refrigerator; GE chest freezer; Hot Point washer; Kenmore propane stove; Metal cabinets; Dishes, pots and pans; Sm. Kitchen appliances; Stereo; Christmas decor; Linens; Towels; Recliner; End tables; Maple book cases; Sofa; Floor lamp; Maple desk; Maple hutch; Maple table & 6 chairs; Maple buffet; Roasters; 3 pc Maple full size bedroom set; Maple chest; Cedar chest; Singer sewing machine; 4 pc Twin bedroom set; 2 Wood youth chairs; Ladies hats; Gun cabinet; 3 pc Full size bedroom set; Records; Chairs; Quilt rack; Lawn chairs; Card table & chairs; Push mower; Fishing poles; Garden tools; Picnic table; Lots of misc not listed.
Owner: Ruth Gilbert Estate
Note: Neat old 2 story house in Chamois. Ideal for a weekend getaway, first home or rental. Most of the personal property is neat and clean. Make plans to attend. Thanks — Rick.
RICHARD MOFFAT AUCTION SERVICE
708 E. McCarty St., Jefferson City, MO 65101 – Business Office
Auctioneers:
Richard Moffat
573-761-4293
Jefferson City, MO
The Moffat Center
Linn, MO

Matt Michelson
Jefferson City, MO